Names have power and usually represent experiences, dreams and hopes. Five years ago when I started my graduate degree in counseling, I knew that eventually I wanted to do private practice and support people in their healing journey. At that time my dream of practicing counseling in the United States seemed far away. Five years later, here I am, excited about this new adventure. 
Many of my family and friends have asked me why I decided to named my practice Grace & Victory and I thought it will be important to share the meaning behind it. Choosing a name and logo for my practice was not easy since I wanted the name to be meaningful to me and easy to remember. Some of the names I thought about were based on phrases that I use often with my counseling clients such as "intentional", "brave", "courage" etc. However, one day I came across a drawing that my daughter made at school that grabbed my attention.  My daughter's piece of art was a heart that has different lines and colors as you can see in this picture below: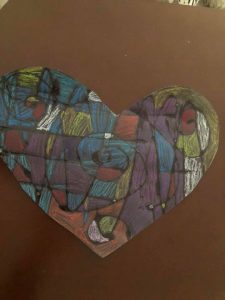 I just loved it! The heart has many colors and lines that reminded me how our experiences have different colors and shapes depending on our interpretation of them. In the trauma work that I do, I invite my clients to represent their experiences and how they feel them in their own bodies by selecting colors and shapes. This heart  represents resilience, courage, bravery, intentionality and the reorganization of people's experiences. This heart represents the messy nature of life and our capacity to recover and thrive despite our circumstances. 
We use words and names to represent our life experiences and attach meaning to them as well.  Grace and Victory are words that I didn't chose randomly. Many years ago I received a little card from a friend that explained the meaning of my name ANA. Ana is a Latin form from the Hebrew name Hanna and the Greek name Avva that means "Grace".  When my husband and I were preparing to welcome our daughter into this world, I research on different names and I came across the name Nicole which is a french name that means "Victory of the people". Everything about Nicole's story (which some day I will share with her permission) represents victory for our family. 
Grace & Victory is not just the name of my private practice. It represents my values, my journey and what I consider important in the work that I do with my clients.  I hope that my clients learn to have grace for themselves and have hope that they can be victorious in their lives. The words that we use, the names that we pick and what they represent are an important part of our journey and our story. Our story is worth sharing!
From my heart to yours,
Ana Baratta, PhD. LPC